We are able to handle any project large or small with the wide range of equipment we have. From installing 6-ton Amour Stone along the Lake Ontario shoreline to building a dock on Sodus Bay, we offer many different options and have the manpower and resources to complete the project by land or barge. Burrows Marine Inc. does not subcontract any aspect of the work. From hauling our own equipment to barging in any size material you may desire, we are able to complete the entire project in house using all of our own equipment and manpower.
Marine Service Focus
Transportation Services
Steel Sheet Pile Break Walls
Rock Break Walls
Rock Revetments
Retaining Walls
Boat Docks
Boat Lifts & PWC Lifts
For Hire Services
Tug Boat w/ Captain
Barges (daily/weekly/monthly rates)
Here is a brief description of the services we offer.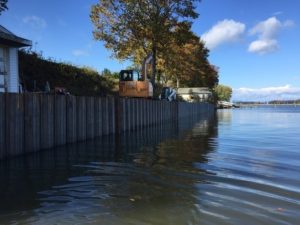 Steel Sheet Piling – This is a process where steel sheeting is installed vertically and driven into the ground to the desired depth. We typically use 12-15 ft. sheets to ensure the sheet is deep enough to avoid any undermining and erosion.  All of our steel walls are reinforced using steel tie-backs.  These are welded to dead-men that are driven below grade behind the wall.  We install drainage behind the wall and backfill with clean stone to the grade of the homeowner's choice. All the joints and seams are welded and a steel cap is placed on the top for a finished product. These walls are typically installed in an area that previous existing vertical walls were in place that has failed over time from high water or wave action.
Armour Stone break walls, rock revetments – Armour stones are installed on the shoreline to break wave action and dissipate the force of waves from causing erosion or damage to the shoreline. We install Mirafi which is a geo-textile fabric under the stones that protects further erosion from being caused from wave action. We have the ability to install Armour stones on the lake shore and we also install smaller stones on the surrounding bays that do not get the big wave action of the lake. We can install the right size rock for the shoreline project that you need completed. This is also a preferred method of the DEC that maintains a natural shoreline habitat and also gives a natural look for years to come.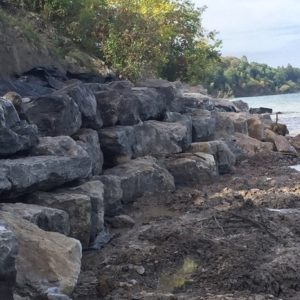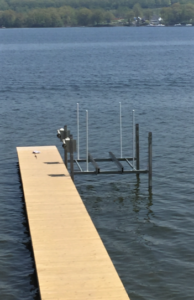 Permanent docks/Boat & PWC hoists – We can design and build a permanent steel frame dock to any size or dimension of your choice. When possible, we build our docks in our fabrication shop and can barge them to your location in sections and install them on-site. We can also repair and add to existing docks.  We offer a wide variety of decking options from traditional pressure treated lumber to the latest composite materials on the market which are virtually maintenance free. We also install permanent boat and PWC hoists in a variety of sizes and options.